DROPPER BOTTLES
Glass Dropper Bottles - Euro Dropper Bottles - Essential Oil Bottles - Amber/Cobalt Blue Glass Bottles
wholesale prices * discount pricing
glass bottles available with black caps or white caps
orifice reducers or pipette w/squeeze bulb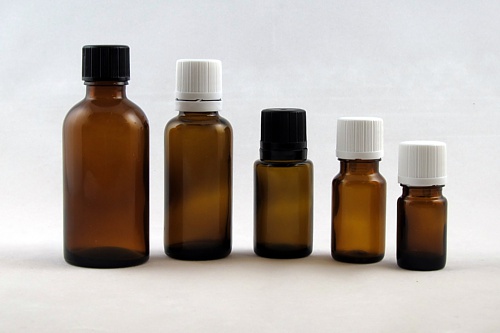 Our Euro Dropper bottles are currently available with these separate, optional closures. Black or white regular threaded caps, tamper evident caps, four sizes of orifice reducers...for thin, medium, thick and very thick liquids.


DROPPER BOTTLE OPTIONAL CLOSURES
Amber & Cobalt Blue Glass Bottles

These Boston Round Glass Bottles can be combined with various closures from caps, pipettes, brushes, spray misters, and treatment pumps.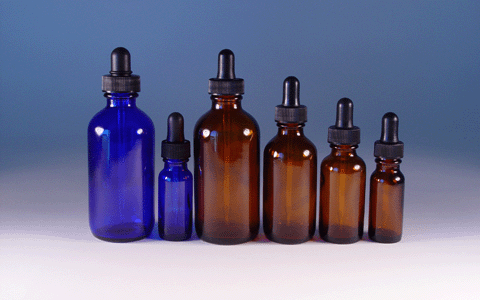 If your product is compatible with the rubber bulb in our pipettes, you should consider using our glass Boston Rounds with a pipette for dispensing your product one drop at a time. Harsh or concentrated essential oils that are not compatible with the rubber bulb should not be used with the pipette. This condition may necessitate the need to use a Boston Round glass bottle with a black phenolic cap (no controlled dispensing) or use of our Euro Dropper Bottles (controlled dispensing with correct orifice reducer).

Our 1/2oz to 4oz Boston Round glass bottles can be combined with caps and pipettes. Spray misters and treatment pumps are available for our 1oz to 2oz Boston Round glass bottles. Glass rods are available for our 1/2oz Boston Round glass bottles. Brushes are available for our 1/2oz to 1oz Boston Round glass bottles. Lotion pumps and caps are available for our 4oz and 8oz Cobalt Blue Boston Round glass bottles and our 8oz and 16oz Amber Boston Round glass bottles.

With these additional methods of dispensing, you can formulate your essential oil products to dispense as drops of liquid, pump as a cream or spray as a mist.

Please note that all fill products must be tested with the container/closure for compatibility. Plastic parts in pumps and sprayers may be adversely affected by corrosive agents.
AMBER BOSTON ROUND GLASS BOTTLES
COBALT BLUE ROUND GLASS BOTTLES



All groups above have our usual quantity discounts. The pipette caps are sold separately (to match with cases). Orifice reducers do not fit these Boston Round glass bottles.


Rexam Amber Glass Dropper Bottles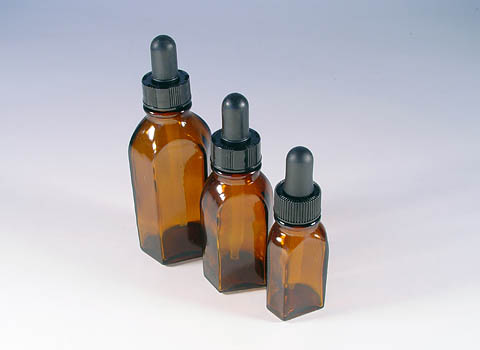 Our Rexam pharmaceutical grade amber glass dropper bottles come in three sizes (1/2oz, 1oz, 2oz) in case packs of 72 in the 1/2oz/1oz and 32 in the 2oz size. A plastic PE pipette that dispenses standard USP drops from an angle is included with the oval glass dropper bottle. With the use of a PE pipette, the danger of shattering a glass pipette is eliminated. This is a great dispenser for veterinary use on animals.
Rexam Amber Glass Dropper Bottles