White Plastic Cosmetic Jars
Frosted Plastic Cosmetic Jars
Small Sample Plastic Jars
Sifter Jars
And many types of lids, caps and sealing discs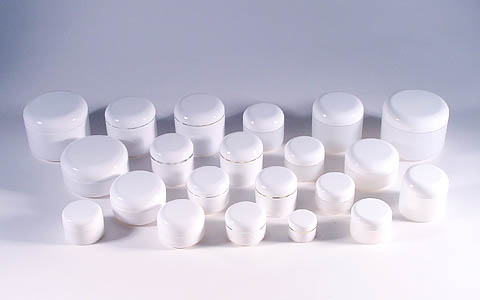 Wholesale Prices
Our double walled plastic cosmetic jars with round base (JPR) are available from 1/2oz to 8oz with sealing disc options. A low profile jar is available in our JPR line in a 1oz, 2oz, and 4oz size. We also offer white or frosted straight base plastic jars (JPP) in a size 1/4oz to 8oz.

Our double walled JPR and JPP line of plastic cosmetic jars are sold by the dozen or by the case. We stock a wide variety of caps for our line up of JPR and JPP plastic jars (dome caps in white, black, white w/silver band, lined and liner less) (smooth flat caps in white, black, lined and liner less) (sealing discs with and without tabs) Purchase our plastic jars and caps by the case for the best price. Please ask our Customer Service Dept.(orders@essentialsupplies.com) for discounts on five or more case purchases.

For samples, we have a growing selection of small polystyrene (JPS) plastic jars in various configurations to fit your particular need. Our 5ml clear JPS plastic jars are available with clear round lids, black round lids, and with clear square base/clear round lid. Our round 10ml and 20ml JPS plastic jars have sifter insert and middle-pot options to convert them to a sifter jar or a stacking jar for your cosmetic jar or craft jars needs.

For our full price list of Cosmetic Jars and More Pictures!
CLICK HERE

When you get to the "Home Page" click on the "Plastic" index tab and then click on "Specialty Plastic Cosmetic" for the JPR and JPS line or click on "White Plastic Jars" for the JPP line of plastic jars.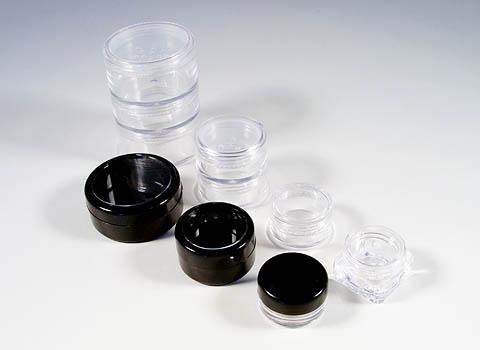 To see our on line catalog, please visit:

www.essentialsupplies.com
or

13918 Equitable Rd.
Cerritos, CA 90703-2315
Main: (562) 802-0515
Fax: (562) 802-0501