Cobalt Blue Glass Bottles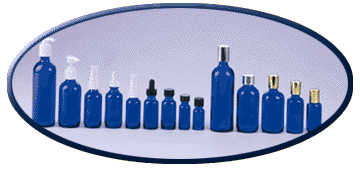 Our cobalt blue glass bottles are available from 5/8 dram to 500 ml. These glass bottles provide an elegant package for your products containing essential oils. We offer cobalt blue glass vials, Euro-Dropper glass bottles with orifice reducers, boston round shaped glass bottles, and several square shaped cobalt blue glass bottles and PET plastic bottles and jars.....
For our latest price list of Cobalt Blue Bottles and Jars
Click Here Now....
when you get to the new index click on the underlinded descriptions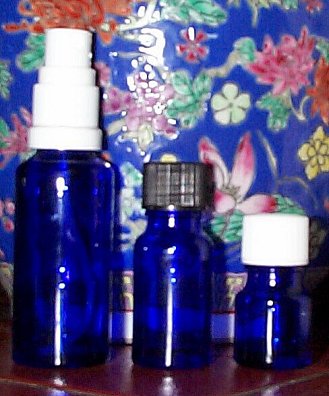 Euro-Dropper Bottles

These Cobalt Blue glass bottles imported from Europe are finely crafted to receive their own polyethylene orifice reducer and over cap to solve the problem of a rubber bulb "melting" with certain essential oils. These bottles are available in amber, cobalt blue and emerald green (5 ml, 10 ml, 15 ml 30 ml, 50 ml and 100 ml.) The bottles have a regulated inside diameter to fit with the orifice reducers and over caps made to go with these bottles. The orifice reducers (plugs) will not fit our regular boston rounds (listed in ounces). To choose the correct size container, just remember that 30 ml equals 1 ounce.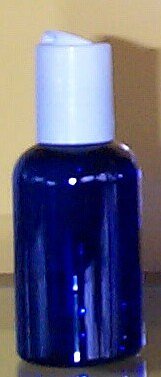 Cobalt Blue Glass and Plastic Boston Rounds

Our cobalt blue glass and PET plastic bottles (Boston Round shape) can be used with regular caps, lotion pumps and sprayers (black and white available) for your product. We also offer dropper caps with glass pipettes in black (with black rubber bulb) or white (with white Monprene bulb) to fit the 1/2 oz, 1 oz and 2 oz size glass bottles. We do not have orifice reducers to fit the Boston Rounds listed in ounces,

Choose droppers (black or white for 1/2 oz. 1 oz and 2 oz), testers, sprayers or pumps separately. We also carry a variety of caps including Poly seal cone lined caps.
Caps sold separately…except for the Euro-dropper bottles in 24 packs and the regular cobalt blue dropper bottles in dozens. (Item numbers starting sith AEDL come complete)

All of our regular stock dozens have quantity discounts: Less 10% 3-11 dozen, Less 15% 12-23 dozen, 20% 24-35 dozen, 25% or case price on 36 dozen or more. Caps, sprayers and lotion pumps available.

For more Cobalt Blue Bottles and Jars
GO SHOPPING NOW
Cobalt Blue PET Plastic too...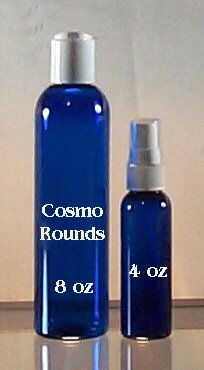 Email: harriett@essentialsupplies.com
To place an order, please call: (562) 997-9777
---